AC REPAIR
Fast, honest, accurate & timely services on Air Conditioner repair in gurgaon.
Call » 888-210-5654

AC INSTALL
Quick AC Installation Services of all brand Window AC & Split AC in gurgaon.
Call » 888-210-5654
AC SERVICE
Window AC & Split AC cleaning/servicing by AC professional in Gurgaon.
Call » 888-210-5654

Air Conditioners > Repair Service > Gurgaon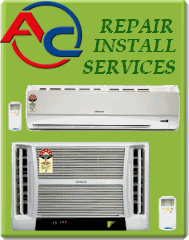 Repair, Service & Maintenance of all brands Window AC & Split AC in Gurgaon, LG AC, Samsung AC, Daikin AC, Carrier AC, Blue Star AC, Voltas AC, Videocon & Onida ACs.
Gurgaon Repairs offers all brand air conditioners repairing, installation and servicing by AC Experts Technicians in all over Gurgaon. Here, you'll find fast, reliable and very affordable repairing and services on your Window Ac/ Split AC or any type of AC at your own place. We can Guarantee that Our AC Repair Service Specialists get the job done right the first time and can provide fast & accurate solutions to your service needs. We promise to deliver exceptional AC service in your budget.
AC Repair Experts!
Gurgaon Repairs for repairs of Air conditioners, your local service and repair maintenance company. Window AC Repairing and Split AC Repairing are our specialty. We pride ourselves in providing professional AC service in a timely manner. We offer a complete solution of AC repiring and New AC installation as well to suit your home or office as well as advice and ideas to improve home A C efficiency. Need repair ? Call now to Gurgaon Repairs..
SEND SERVICE REQUEST TO US